On June 25, the 34th International Electric Vehicle Symposium & Exhibition – Global Intelligent Mobility Conference and China (Nanjing) International New Energy and Intelligent Connected Vehicles Exhibition, was held in Nanjing. EVS is the most influential international new energy electric vehicle conference in the field of new energy vehicles in the world and is known as the "Olympics" in the new energy electric vehicle exhibition.
As a high-tech enterprise specializing in the design and development of EV vehicle charging station infrastructure, smart charging cloud platform, and mobile phone APP, SCU was invited to participate in this exhibition. At the exhibition, SCU displayed many products such as GB/T EV charger, wall mount DC charger, EV charger with CCS, CHAdeMO and AC guns, which received extensive attention from the participants.
DC fast charging – Shorten charging time
EV charger is the "blood transfusion station" of new energy electric vehicles. Although the number of dc EV charger is increasing rapidly, the problem of inconvenient charging is still prominent. How long time to charge full has become the focus of the participants.
SCU dc EV charger, the input voltage is 380VAC, the capacity covers 30kw-360kw, and wide constant power range can greatly shorten the charging time. Generally, it takes only 15-60 minutes to fully charge. It can be widely used in public charging stations, commercial centers, residential areas, public transport groups, highway service areas, energy storage charging stations, electric vehicle emergency power supplies, and other places.
High compatibility – Easy to charge all kinds of electric vehicles
At the exhibition, the super compatibility of SCU EV charger with 3 guns became a highlight, attracting many participants to consult and negotiate. The SCU DC EV charger with 3 guns can charge all the charging vehicles of CCS, CHAdeMO EV charger, and AC type 2 in the current and next generation. The compatible models include BMW, Volkswagen, General Motors, Porsche, Audi, Nissan, Mitsubishi, Renault, Daimler, Tesla, Medes, etc.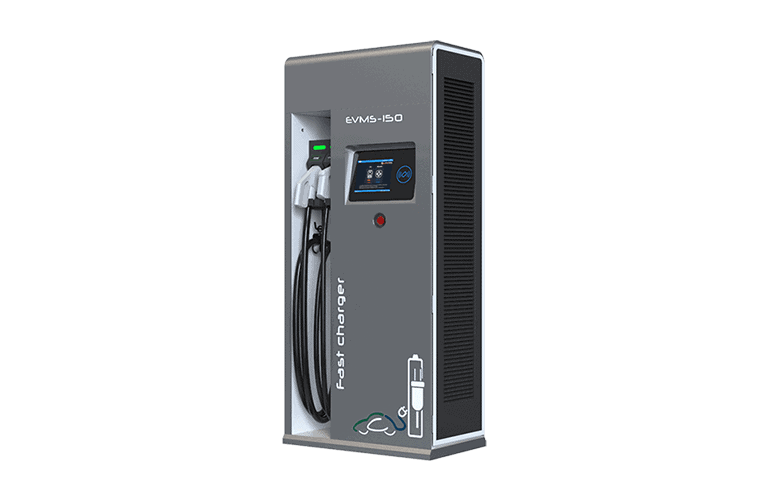 This series of products cover of 30kw-150kw, support multiple option such as 2guns (CCS and CHAdeMO, CCS and CCS, CCS and AC, CHAdeMO AC), and 3guns (CCS CHAdeMO and AC). You can also choose 2guns charge together or in turn, which can provide convenient charging service for different models. In this series, the 30kW wall mounted DC EV charger has also become a popular item for consultation with the participants due to its advantages of small volume and convenient installation.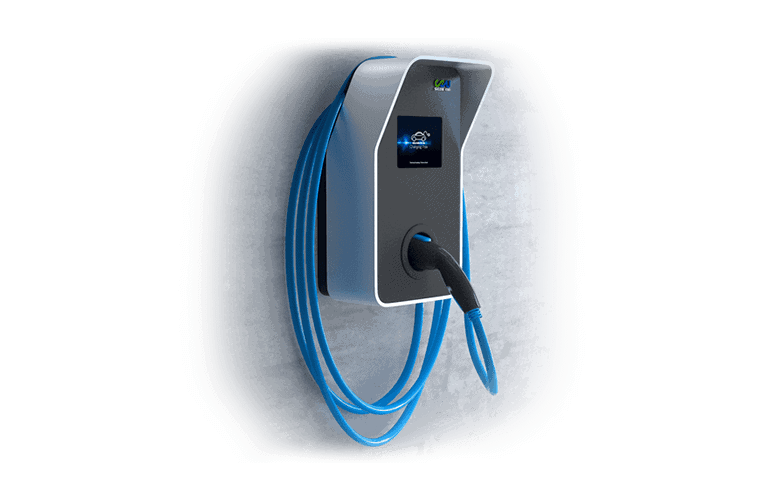 Intelligent interconnection of "people, cars and EV charger"
It is worth mentioning that the PLC module (Power Line Communication Modem) independently developed by SCU, as the communication module between new energy electric vehicle and EV charger, can support the conversion of CAN, RS232 / 485 communication protocols and ISO / IEC 15118, DIN 70121 communication standards, and can be installed in the DC EV charger or new energy electric vehicle applicable to CCS 2.0 standard to realize the intelligent interconnection between vehicles and piles.
In terms of human-computer interaction, OCPP protocol is used to support charging via QR code scanning, APP, card swiping, etc. It is also suitable for 4G, WiFi, Bluetooth and other communication connection modes, with flexible networking and convenient management.
Safe and reliable structure design
The SCU EV charger adopts air cooling mode, with independent cooling air duct, and the power cooling is separated from the control circuit to ensure that the control circuit is free of dust. With metal enclosure, the protection grade is IP55, which can be used in outdoor environment with complex weather.
At the same time, it also has over-voltage, under voltage, over-current, over temperature, phase loss, output short circuit, leakage protection, emergency stop, insulation detection protection and other perfect protection functions. In case of BMS communication failure, disconnection, battery temperature and voltage exceeding the allowable limit, charging will be stopped immediately, so as to realize the safety and reliability of unattended and punctual charging in the whole process.
low power consumption
Efficiency is also of great concern. SCU EV charger has the characteristics of high efficiency, low radiation, flexible expansion, energy saving and environmental protection. It adopts the latest IGBT rectifier technology and active APFC technology, which makes the power factor above 0.99 and the overall efficiency above 95.5%. While meeting the requirements of high-power fast charging, it can reduce the charging loss, which is more suitable for the future life mode of green travel, low-carbon and environmental protection.
This exhibition fully demonstrates the importance of low carbon, energy saving and ecology in future life. Relying on a wide range of charging products with high compatibility, SCU provides a full range of charging solutions among power grid, renewable energy and electric vehicles to open up the "last mile" for green travel.
Wonderful review